Learn more about your support pod facilitators
They are here to hold a safe and caring space for you.
These support pods are part of our wellbeing community, if you would like to find out more or join the wellbeing community please click the link below.
---
Pods are run once a month in the evening, from 7pm to 8pm. Sue's pods are on the 2nd Tuesday of the month, Julias Pods are on the 3rd Wednesday of the month and Wilma's are on the 4th Wednesday of the month.
Starting in August!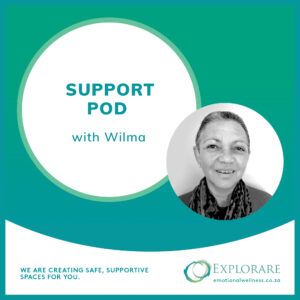 Wilma's group will hold the intention that we will nourish one another, share, debate, communicate; build bridges and make connections.
She says "My passion is to nourish others in every way I can; and watch them grow. When I nourish others, I grow."
Wilma comes from a teaching background and then moved into supporting others as a counsellor at FAMSA for the past 15 years. She is soft spoken and holds a loving presence. It is a delight to have her as part of the team and I know you will feel deeply heard when you spend time with her.
If you would like to sign up for Wilma's support Pod please click the link below and fill in the google form.
SUPPORT POD WITH WILMA
The focus of Sue's group is on using story telling to support wellbeing.
Sue says "Storytelling is central to most of human life. Telling stories seems to come naturally to us. They are the main way of communicating with others about the things that matter to us. By sharing stories, we let people share a little of our world's experiences.
Through the stories we tell, we create windows onto our hopes and fear. It is partly through engaging with storytelling in various forms that we learn about what it is to be a person. We learn to understand and empathise with other people's experiences."
Sue has been involved in teaching for 30 years and her experience ranges from teacher support, teaching drama, dance, english and curriculum development which included developing a course for Explo at Yale University.
Sue is a delightful human, who is full of life and sparkles when she talks about her passion; which is supporting teachers. It is a privilege to have her on our team. I have no doubt you will feel cared for and nurtured under her care.
Sue says "I am a storyteller, drama teacher and dancer, who is passionate about supporting teachers and their well-being. I believe that imaginative, creative expression leads to developing increased empathy and resilience. I have been married for 23 years to a wonderful man and we have two beautiful, teen daughters. I love to  spend time with friends, having coffee and connecting."
"Creativity is inventing, experimenting, growing, taking risks, breaking rules, making mistakes, and having fun." -- Mary Lou Cook
Please note that Sue's group is slightly different as she is doing research regarding storytelling. Below Sue share more on this. If you have any specific questions regarding this and would like to join Sue's group please email her on sue@explorare.co.za
Here is some more information from Sue:
The support group is designed to be flexible and experiential. The sessions are each one hour long. The basic outline of the sessions indicates what is planned for teaching, but may change according to the needs of the group.  Basically, the sessions will cover the following:
Story as metaphor
The biographical or anecdotal story and
The creative story
This will involve:
''Why I am here'' stories;
''I know what you are thinking''stories
 ''Who I am''stories
''The vision''story
''Values-in-action'' stories
''Teaching'' stories
Each session will be treated confidentially and the participants will be required to sign a confidentiality agreement to protect you and the Support Group leader.
I would like to ask your permission to use these sessions as part of my research for my Masters in Applied Drama. I am reflecting on the effect of Storytelling on Empathy and Emotional Intelligence development. It would require you to do two online questionnaires at the start of our sessions and another one 3 months down the line.
Please note that I do not want you to feel uncomfortable with this aspect of the support group. I will only be reflecting and not judging or analysing you as we work through the different stories. The aim has been and will be to support and encourage YOU.
I look forward to our time together!
To sign up for Sues group please click the link below and fill out the google form.
Julia is wholeheartedly focused on creating a community to support teacher wellness, including creating time for self-care. Her groups will be a space to share expertise and experiences.
Julia has a completed her MEd on teachers understanding of learning support in schools. She worked at the University of Stellenbosch for more than 10 years in the educational Psychology department as tutor and researcher. I am thrilled to have her part of the team and I know you will find her an invaluable resource and support.
Julia says "My interest and passion is to support learning for all. I see myself as a critical and creative thinker. I am very curious about what and how people function. Being respectful of diversity is critical for me and an important part of my work. I am very patient but want to get things done. I tend to want to do too much but then remind myself to take a break. I am very healthy. Charles, my husband is my best friend. We are active, we run 5km  twice a week and exercise regularly. My family is most important and my granddaughter is the highlight of my life. I enjoy my privacy and love working in the garden. I love to laugh and enjoy coffee. 
Most important, I enjoy sharing my skills and learning new things everyday."
To sign up with Julia click the link below, which will take you to a google form to register