Introducing The Feeling Cards
These cards are designed to help children, and adults, understand feelings and build more connection with themselves and others...
40% of all digital Feeling Cards purchases will be donated to the Inner City Collective
Supporting families in the Johannesburg inner city who have been affected by the lockdown. With a focus on education and food relief. Our intention is to grow community driven initiatives which allow for people to feel empowered and valued.
The Feelings Cards help all users develop emotional awareness and to:
notice what you are feeling
increase your emotional vocabulary
identify your different emotions
express your feelings to others
understand what your emotions are trying to tell you
learn ways to understand and navigate all your emotion
Sign up for our free Feeling cards course
Junior cards, senior cards and words cards
In the Feeling Cards Pack you have junior cards, senior cards and word cards.
The junior cards can be used for all ages and are especially for younger kids since the images are very obvious as to what emotion the characters are feeling. You will notice these cards only show the face of the characters.
The senior cards, shown below, have the full body of the character. These cards are generally for older children 7/8+, as they can be too complex for younger children. It all depends on the specific child.
There are also 50 word cards which are excellent for developing emotional vocabulary.
Feeling Cards 80-page information book and guide
One of the intentions of the Feeling Cards booklet and the activities is, for you as the adult, to get to know each of the types of activities and then be able to use them for inspiration when different emotions arise.
Where to start?
Sign up for the FREE Feeling Cards course by clicking the button below. This course will give you all the support you need to begin exploring with the cards.
To begin I would recommend reading the information about emotions in the beginning of the book. Then take time to do some of the activities in the book to orientate yourself as to how the cards and the activities work together.
Printed Feeling Cards Set
Digital Feeling Card Products
Contents
10 Junior Picture Cards
25 Senior Picture Cards
50 Emotion Word Cards
80 Page Booklet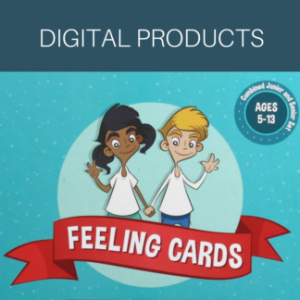 Digital Products
English, Afrikaans or Zulu Cards
Teachers Toolkit
Special Needs Cards
80 Page Booklet